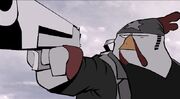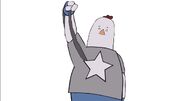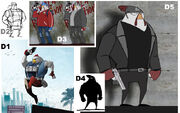 Rocketbirds Producer and Ratloop Asia Studio Head
Sian Yue Tan
had this to say about the main protagonist: "Hardboiled Chicken is a mild-mannered, stone-cold Penguin killer."
Hardboiled was adbucted during war and held prisoner in Albatropolis. There he was tortured and brainwash
ed, until one day he was able to break free and swore revenge on the Putzki regime.
Ad blocker interference detected!
Wikia is a free-to-use site that makes money from advertising. We have a modified experience for viewers using ad blockers

Wikia is not accessible if you've made further modifications. Remove the custom ad blocker rule(s) and the page will load as expected.