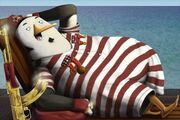 Putzki

Dictator Putzki

Personality

Evil, stupid, pathetic

First appearance

Rocketbirds: Revolution

Affiliation(s)

No information

Last appearance

Rocketbirds: Hardboiled Chicken
Template codeAny categories to be inserted into articles by the templateIl Putzki is the evil (yet insecure) dictator of Albatropolis. His likeness can be found on propaganda throughout the game. Putzki is a penguin and he has an entire penguin army under his control. Putzki cloned Hardboiled Chicken as a sort of insurance policy, in case he ever defected from the penguin regime.